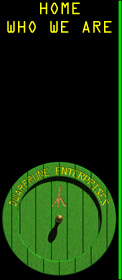 Basically just a couple of guys fooling around with this internet
thing. There's me, Shawn Menninga (sorry, no homepage yet),
and my bestest friend in the whole world, Douglas Peter Sculley
(homepage). Since getting married a few years back Douglas
hasn't been all that actively involved here, but that's OK, there's
really not that much to do anyway.
Home | About DwarfRune Enterprises | Who We Are | Products | Services | Support | Contacting Us
Copyright ©1998-2008 DwarfRune Enterprises All rights reserved.
---
Last updated 4 April 2008 by The Webmaster