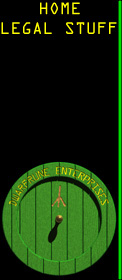 Who am I to talk about copyrights? I stole the page layout from
Cyan in the first place, so as long as you don't take the actual
text, I don't care. Munge whatever you can use from these pages.
Home | About DwarfRune Enterprises | Who We Are | Products | Services | Support | Contacting Us
Copyright ©1998-2008 DwarfRune Enterprises All rights reserved.
---
Last updated 11 November 1998 by The Webmaster